Don't worry! ;-)
According to a recent Chinese survey, the Coronavirus is very present in sheets and pillowcases. We can assure you that the protocol we have established for you since the month of june respects as much as possible the usual protocols (see our commitments below).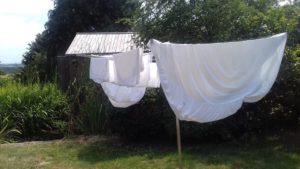 Between two rentals, the bedding of the gîte (protective cover and pillowcases) is washed and benefits from the sun while the whole house starts to shine and the ecological anti-virus disinfectant starts to smell like rosemary.
I remind you that sheets and pillowcases are compulsory. Don't forget to put them in your luggage. In order to minimize the risk of spreading the virus in the air, we recommend that you do not shake the used sheets when they are removed at the end of your stay.
We promise you a serene stay ;-)#Serene Stay #antiCovid #slowtourism