Dogs not admitted, except assistance dogs
We like animals at La Grange Ychippe. We have a dog, a cat, chickens and rabbits.
Unfortunately, we do not accept animals in our gite (no matter the size of your pet, or the length of his hair!). Indeed, our house is not arranged for the reception of it, and is designed to accommodate many children, especially infants. We hope that people with allergies can fully enjoy their stay with us.
We are sûre that your pet will find a warm welcome into your family or friends for a weekend !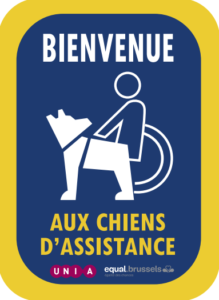 However, because assistance dogs are essential to the well-being of their handicapped owners and to their independence on a daily basis, they are allowed in the cottage. These assistance dogs will carry the AVIQ-approved "Assistance Dog Passport", which certifies and formalises the identity and name of the person looking after the assistance dog.