Escapade Nature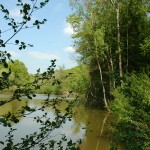 Go out of the property and walk 200 metres : on the left you find
the nature park of the Domaine Marie Mouchon
. A heaven of biodiversity of 22 hectares with streams, ponds and meadows at the edge of the Famenne and Condroz region.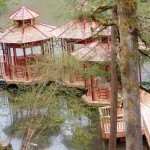 On the right, the provincial Domain of Chevetogne with its six thematic gardens scattered in a large park where activities abound for all ages and all tastes …
Do you want an unusual walk in nature?
"Sentier d'Art en Condroz-Famenne" is a new attractive and unique long-distance hiking circuit in Wallonia which covers more than 141 km in the Valley of Flavors (Ciney, Gesves, Hamois, Havelange, Ohey, Somme-Leuze) punctuated by 42 works of art in the nature.
Fairies, elves and goblins …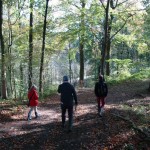 Unspoilt nature can be found everywhere, as you go out for a walk. Do not hesitate to borrow the available maps in the gîte !
In the splendid Custinne wood for example, where, at the turn of a path, you will discover the "Tomb of the Wolf". It was at this precise spot that King Léopold I shot the last wolf in Belgium. The place exudes a certain magic which still haunts the misty valleys some clear mornings. Listen! Among the sounds rising from the coppice, you may end up hearing the ringing of a fairy bell, a witch's laughter, the lively conversations of the elves … Are you dreaming ? No, you are in our forests !
In Conjoux, the old lime tree that "stands guard" at the crossroads to Custine is probably more than 600 years old.
One of his fellows stands in front of the entrance of the
church Saint-Etienne in Waha
, one of the oldest in Belgium, up on a hill dominating Marche-en-Famenne. A remarkable church where you can admire a number of stained glass windows of Jean-Michel Folon.
Going up the valley of the Lesse …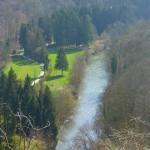 Go down the Lesse and
stop in Furfooz
, there is another park full of surprises. The valley of the Lesse provides its most beautiful views from the remains of the roman camp on top of the hill. From there, reaching
the climbing site of Châleux
 or further on the Meuse,
that of Freyr
, will take little time. Peregrine falcons nest on the escarpments. They watch their prey on the calcareous meadows where goats and sheep sometimes graze.
From a river to another

So close Ardenne
You will discover another Ardenne heading towards Gedinne, riding alongside the "Botte de Givet" and going south towards the Semois. It is the Ardenne of the province of Namur, the highest point of the "Haute-Meuse"
(503 metres at the Croix-Scaille).
In the deep forests, beavers have taken back control of the streams. In the winter, the high plateau offers great cross-country ski tracks.