Sport, relaxation and discoveries : there is something for every taste around the "Grange d'ychippe" !
You can't imagine all you can do in the vicinity of our gîte ! Alone or with your family or friends, the scenery is great and there are plenty of temptations.
From Chevetogne to Han-Sur-Lesse
A few steps away from our gîte, you can start with le Domaine de Chevetogne. A true paradise for children with its extraordinary playgrounds and its tree houses, it is a place of enjoyment for all with its walking trails, swimming pool, riding arena … you will find numerous sport fields, a museum, restaurants, etc. The whole park lies in an absolutely unspoilt setting.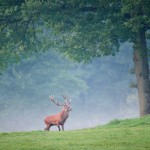 A few kilometres further, the nature reserve and the caves of Han-sur-Lesse  are waiting for you. Have you ever seen a wolverine ? Do you want to meet wolfes and aurochs ? Go and meet the animals of our region, of today and yesterday, in a magnificent setting. End your day with a visit of the gorgeous caves carved by the river Lesse in the limestone massif.
And then the river …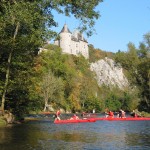 The Lesse is at the same time a splendid valley full of majestic sites : le parc naturel de Furfooz, (nature park), the castle of Walzin, the "needles" of Châleux … Hikers, climbers, mountain bikers or riders, this world is yours ! But the Lesse is also an opportunity to go down a river with a kayak, with your family or friends. A relaxing and refreshing time. A piece of advice ? Start to go down (the river) in the early hours : in the summer you will enjoy a quietness and serenity second to none. Another piece of advice ? Take a break at the Flobette, next to the park of Furfooz. Simple flavours guaranteed !
Higher and further
The valley of the Meuse reaches out to thrill seekers : on the river Lesse in Châleux but mostly in Freÿr, you will see the highest rocks in Belgium. Other sites downstream will make climbers smile.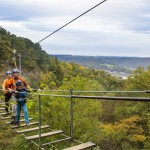 But no need to be a trained alpinist to shudder : the courses of Dinant Aventure will leave you speechless. There are also numerous caves to explore such as la grotte de Lorette in Rochefort or la Merveilleuse in Dinant. They are accessible to all, as in Han-sur-Lesse. Other places are only accessible by caving.
From Ravel to Ravel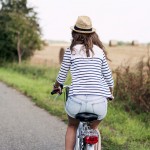 The "Ravel(s)" (cycling routes replacing old railroads) entered the life of thousands of bikers in Belgium. Good to know : the Grange d'Ychippe is close to two of them that are wonderful :
• The old railway line L126, from Ciney to Huy (with an extension up to Landen)
• The old railway line L150, from Houyet to Jemelle. To reach these two lines, many itineraries start from the Grange d'Ychippe.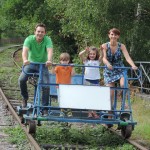 And don't forget : our gîte has got a « Bikes welcome » label. Another way of travelling on old railway lines are les draisines de la Molignée (handcars). An experience between sport and discovery, at a few steps from the famous abbey of Maredsous where you can savour a beer and a few pieces of cheese after your effort.
The Bocq valley with old locomotives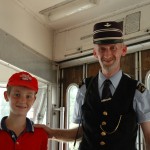 Railway enthusiasts, it happens here first : discover the Bocq valley aboard an old train. Departure in Ciney, arrival in Spontin. An experience for the whole family.
Golf everywhere, even at the farm !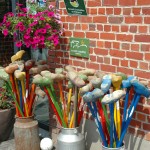 Golf in a farm ? Yes, it is possible ! It is even fun. Another activity for the whole family, amidst cows. Are you tempted ? It happens in Heure, at the Bourgade farm. But golf can of course also be played on magnificent courses. The Grange d'Ychippe is close to three exceptional courses : the golf of Durbuy, the "Five Nations" in Méan (designed by Gary Player) and the Royal Golf Club d'Ardenne. Fans will enjoy.
A la pêche!