Order the best products of the Condroz for your stay in Ychippe
You will soon be staying in our charming Condroz region and are probably preparing your holiday. And since travelling, fine food and local discoveries often go together, we are happy to let you know that you can order the best products of the Condroz region several days before your stay: vegetables, fruit, bread, cheese, cooked meats, beer, coffee, juice, chocolate and plenty of other nice things can be ordered online at http://cocoricoop.be/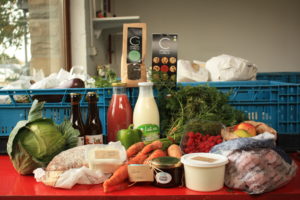 Add what you like to your shopping cart and pay online (between Sunday noon and Tuesday evening). You can withdraw your order on Friday from 16:00 to 19:00 at the nearest pick-up point.
Cocoricoop is a young short food supply chain cooperative that gathers producers and consumers of the region in order to promote another more just food model. The website presents the passionate producers, which might give you ideas for visits during your stay.
We are looking forward to welcome you in our region with multiple flavours!