Bikes Welcome
The cottage was granted a "Bikes Welcome" label and provides to cyclists :
a closed and secured place for 5 bikes, a first aid kit, equipment to clean and repair your bike, clean water, maps and cycling routes, tourist information as well as the list of establishments that will welcome you and your bike.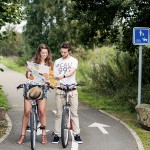 In our house you will find different maps, roadbooks and bike rides, and, in particular, the Ravel map that connects Ciney and Landen (75 km on the old railway lines L126 and L127).
Connect Ciney to Landen through Havelange, Modave, Huy, Hannut and Braives will seem super easy with the new map Ciney-Huy-Braives. A practical and friendly map that will make you want to get out of RAVeL to go and discover the rich natural and built heritage. The pictograms listed on this map also tell you about places where to eat, rent or repair bicycles, attractions and museums.
The bicycle rental is possible at the Tourist Office of Ciney.